Make delicious, healthy, and natural snacks at home and keep your food waste to a minimum.
This essential appliance in your kitchen can dehydrate fruit, vegetables, herbs and fish so they retain their full flavors and nutrients.
Dehydrating food is healthy and delicious
Food dehydrators only extracts water from any food type, and leave all the nutrients and enzymes intact. This ensures your food stays as healthy as when it was fresh. Products that contain lots of natural sugar like fruit and tomatoes get even sweeter when dehydrated without the need to add any sweeteners. Perfect for healthy snacks for your kids and yourself. To keep all nutrients intact it is recommended to dehydrate food at 45ºC.
TIP: during dehydration process temperature inside the food dehydrator varies 4-5ºC, so, for example, if you want to dehydrate your food at 45ºC you can set the temperature to 50ºC.
Low Energy Usage
Even though you could dehydrate food in your oven, food dehydrators offer you many benefits once you discover the joy of dehydrating. The food dryer is a low energy consumption alternative as its temperature can be set much lower then your conventional oven. You can stack up layers together and dry food at the same time without the flavours interfering. Just take into account that you combine food with the same dehydrating time at the same level.
Conserve almost anything
All foods that contain water can be dehydrated. Taking the moisture out of food means that the bacteria that cause products to go bad cannot do their thing and your produce will be conserved for many months if stored in a glass jar or airtight container. Next to dehydrating fruit, vegetables and fish, you can even dehydrate flowers, herbs and mushrooms or make crackers, raw pancakes, kale chips and many more!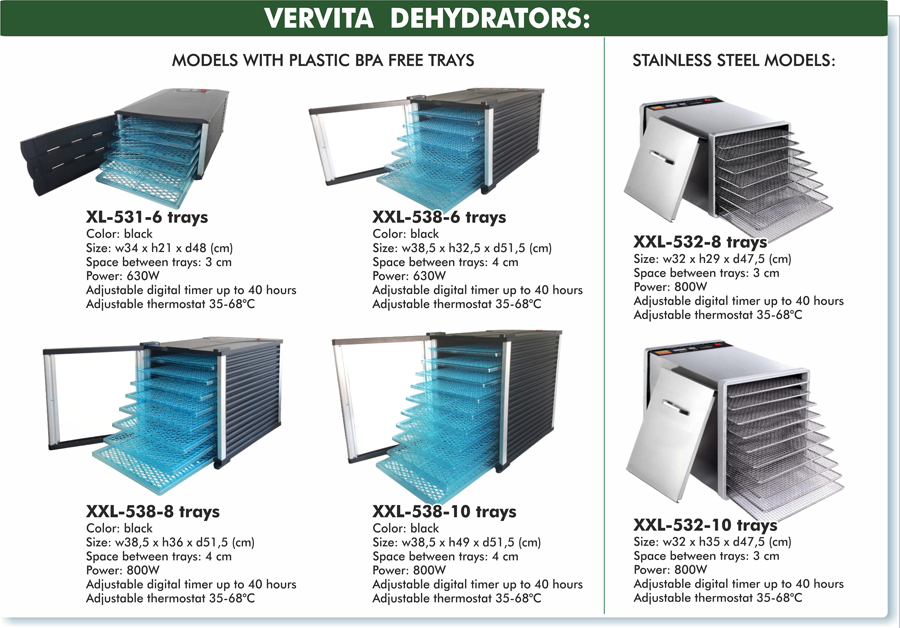 Products VerVita