OmniBlend V Blender 1200W
OmniBlend V Blender 1200W
OmniBlend has combined the best design features from the world's top blenders to create one of the fastest and most powerful food preparation machines, delivered by a rugged 3HP motor.
This best-selling, commercial blender is suitable for heavy-duty use in restaurants and juice bars and brings a new level of professionalism and food creativity to the home kitchen.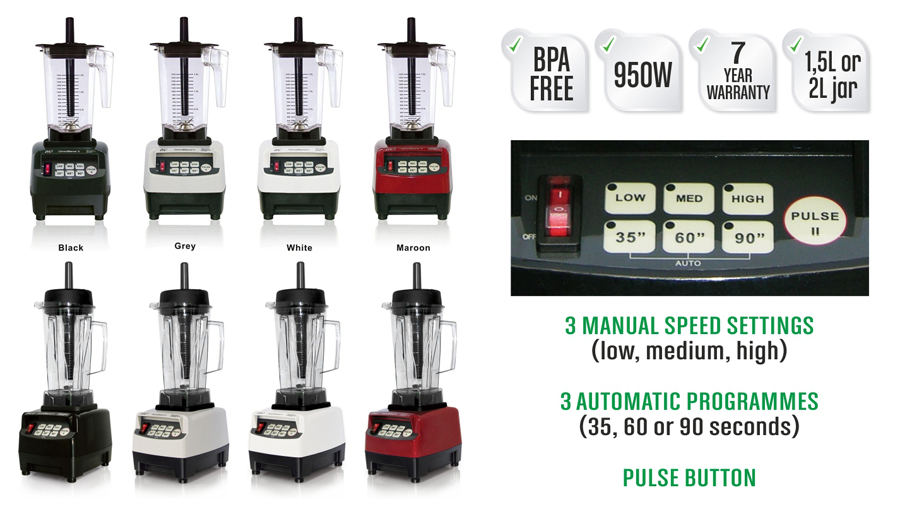 Electronic programmes add powerful functions to the machine, replacing guesswork with timed, cycled and repeatable blending – set and forget. Manual control over slow, medium and high speed blending is also available. There is no need to be concerned about electronic controls failing. We have never come across a single fault – like the rest of the machine the control panel is built like a tank!
OmniBlend's durable jugs are made from single-injection-mould, BPA-free Eastman Tritan Copolyester.
The 6-blade cutting assembly is made from highest quality, Japanese precision stainless steel.
Only a heavy-duty commercial blender can break down the cell walls of green leafy and root vegetables, releasing valuable phytonutrients in an easy to digest form.

OmniBlend is a revolutionary wholefood machine which can create anything from a raw living soup to a hot soup heated by friction, to a professionally perfect smoothie.

In addition, OmniBlend can puree, mix, chop, grind and whip. It has the pure grunt necessary to grind grains, coffee and spices, make baby food, nut butters and milks, pesto, breadcrumbs, and crush ice. The creative possibilities are endless.
Buy with confidence with a 7 Year Warranty that covers any malfunctions od blender base
We sell spare parts to fulfill all non-warranty requirements.
Our prices include free shipping anywhere in Croatia.
​POWERFUL MOTOR
The central component of a blender is its motor. OmniBlend boasts a muscular 3 Horse Power (1200W) variable speed motor which allows it to pulverise the toughest ingredients and keep going year after year when other blenders fail. OmniBlend's processing power emulsifies fruits, vegetables and nuts into a smooth texture which can be used to make soups, ice cream, nut butters, nut milks and sauces. OmniBlend also grinds grains into flour and crushes ice.
 Unlike less robust domestic blenders, OmniBlend is built to withstand constant use in juice bars and cafes.
OVERLOAD PROTECTION
For extra durability, a built in sensor automatically turns off the motor when it detects excess usage. This prolongs OmniBlend's operating life and preempts breakdowns. If it should ever trip – simply switch it back on.
OVERHEAT PROTECTION
If you use your blender continuously, after awhile, the motor could overheat. That's why OmniBlend has built in overheat safety feature to prevent damage of the blende motor. This feature will temporarily disable your blender until the motor cools down.
BLADES
Of equal importance to the motor are the quality of a blender's cutting blades. While most blenders have a standard 4-blade assembly (some only have 2) OmniBlend has a six-blade, precision, stainless-steel assembly allowing it to blend even the toughest of foods. The extra 2 downward-angled blades are designed to prevent dense foods from getting jammed and creating a vacuum at the bottom of the jug. The high-quality stainless steel blades are designed for both wet and dry applications without the expense or inconvenience of separate jugs. So you can blend ice, grains, fruits, vegetables, nuts and more, all with one container. OmniBlend blades are designed to make hot soup within minutes, heating with friction, whilst also being able to create frozen desserts within seconds.
JUG AND TAMPER
OmniBlend's durable jugs are made from single-injection-mould, BPA-free Eastman Tritan Copolyester. They have a melting point over 120 Degrees Celsius making them suitable for the hottest soups. Built to withstand high RPM, the container is virtually unbreakable and chemical resistant. The transparent jug allows you to observe food processing and has raised calibrations for measuring in ounces, cups or litres. The 2 litre container is shaped to create a vortex at the base that forces ingredients up from the blade and into the centre for consistent processing. Unlike the Vitamix, OmniBlend only needs one multi-purpose jug for wet and dry applications. OmniBlend comes with a tamper tool to push food downwards without jamming the blades or the tamper. This allows you to you manipulate ingredients that other blenders simply hollow out – and to blend thick, dense ingredients that would bring other blenders to a halt. A handy lid plug allows you to run the machine with or without the tamper. (The tamper is designed to be used safely through the lid, attempting to use the tamper freehand without the lid is dangerous and voids the warranty.)
FUNCTIONALITY
More that just a blender, OmniBlend is a versatile kitchen appliance with multiple functions that can replace many other machines: OmniBlend the blender makes healthy nutrition-rich juices and smoothies to restaurant quality. Create healthy sauces, gravies and perfect puddings all with the minimum of heating to preserve vital nutrients. Whip cream or produce perfect homemade nut milks. OmniBlend makes hot soup in minutes – super powered motor and high speed blades heat fresh ingredients to boiling point using friction. Transforms fresh vegetable juice into a steaming hot soup, liquidised to a smooth consistency in as little as 4 minutes. OmniBlend is an ice cream maker. OmniBlend's 6 blade assembly crushes and cuts up frozen fruit to create a larger chilled surface that refreezes itself into a smooth and mouth-watering, soft-serve, frozen treat. OmniBlend makes baby food. Why trust the health of your precious baby to processed and denatured commercial foods with long shelf lives and additives? Give your baby the best. OmniBlend can make nutritious fresh purees for your baby – and they'll love the taste. OmniBlend is a food processor and chopper. By using the 4 manual functions: low, medium or high or pulse to suit your needs, you can dry-chop carrots, olives, onions, eggs and cheese. For wet-chopping use water to draw the food into the blades and chop a whole head of cabbage into coleslaw in seconds. OmniBlend is an ice maker. It crushes a jug full of ice in a few seconds. OmniBlend the bread maker. OmniBlend kneads dough for homemade bread to create fresh, crusty bread using only the ingredients you want. OmniBlend the Grinder. OmniBlend can grind coffee beans or mill grains into flour.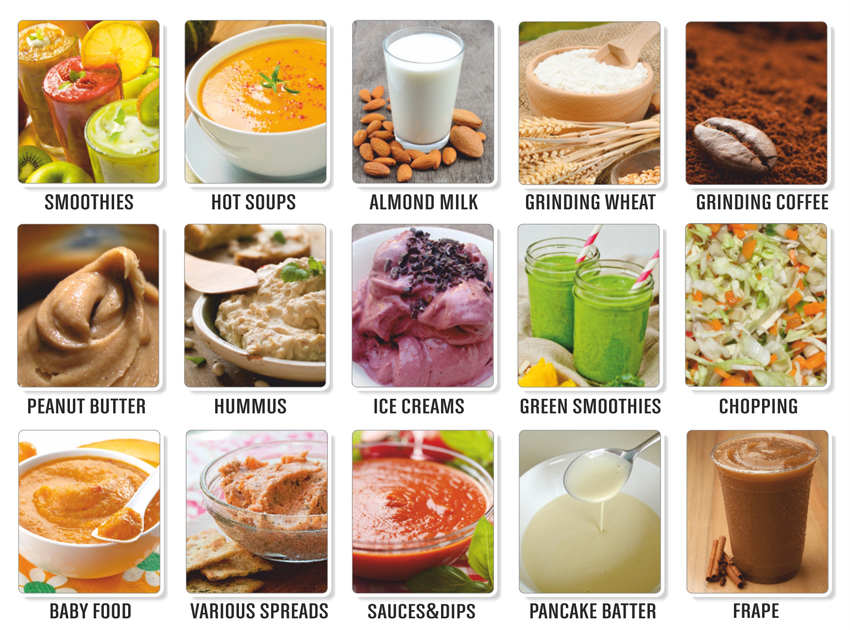 WARRANTY
OmniBlend has 7 year warranty for home use and 3 year warranty for commercial use that covers any malfunctions of blender base (motor and electronics). Blade is a consumable part not covered by warrany and should be changed (depending on the usage and maintanace) usually every 2-3 years. If you notice that the barring is leaking, it's time for new blade.

Commercial Blenders & Juicers for Caterers