A new revolution in slow juicing leafy greens!
The Wellra TwinGear Slow Juicer is designed and developed by the South Korean company Wellra. Wellra manufactures also in OEM twin gear slow juicers for other well-known brands, in the objective to reach and to provide a high level of quality.
With the Wellra Slow Juicer, you will obtain juices containing all the green and healthy substances your body needs! The very powerful system of twin gears with slow extraction makes it possible to crush, grind and extract nutrients and vitamins from vegetables from the hardest to the most fibrous fruits and vegetables.
The best Twin Gear slow juicer
Thanks to its design and to its system of double sophisticated stainless screw, the Wellra Slow Juicer enables you to benefit and restore all the wealth of your fruits and vegetables in terms of health and wellness.
A good start for your health!
The WELLRA Twin Gear Slow Juicer is the best product to begin your health cure, containing fruits and vegetables juices! It extracts high quality and clear juice from any kind of ingredient : vegetables, fruits, wheatgrass and leafy greens.
Precision of stainless Twin Gears technology!
Thanks to the precision of the speed of extraction (160 rpm) of its two stainless gears, the Wellra TGJ Slow Juicer makes it possible! Rather than single-gear juicers, you could more easily extract the essential nutrients, vitamins and minerals, contained in the largest variety of fruits and vegetables, even those most difficult as the wheatgrass, or of fiber rich vegetables, like curly kale and carrots.
Easy-to-use for all the family with any types of fruits or vegetables!
The WELLRA Twin Gear Slow Juicer was designed to be easily used by anyone. The maintenance and the cleaning of the Wellra Slow Juicer were also thought as to be simple and fast. The Wellra Slow Juicer has 3 types of strainers to facilitate the extraction of every type of fruits and vegetables, from the hardest to the softest, and even with frozen food!!
A slow and powerful juicing system
The Wellra TwinGear Slow Juicer is manufactured with a powerful engine functioning on alternating current and at low speed (160 rpm). This technology makes it possible to obtain fresh and copious juices.
Your fresh juices in complete safety!
The Wellra Twin Gear Inox was designed in compliance with safety standards applied all over the world (CE, CB, ETL, RoHS II, KC).
We offer 10 years warranty on the motor base and 2 years on other parts of our Wellra Twin Gear Slow Juicer!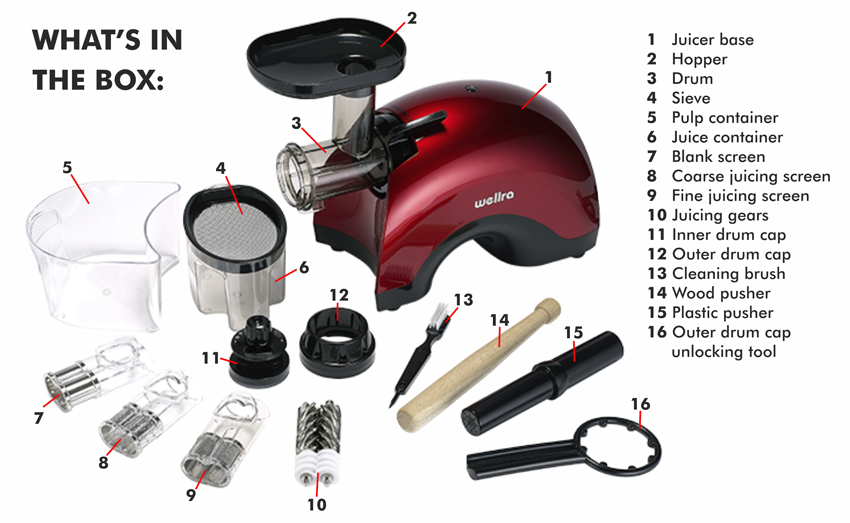 Products VerVita