Sahara foldable dehydrator
Sahara foldable dehydrator
The revolutionary new Sahara Folding Dehydrator is the most convenient dehydrator on the market! It's the world's only dehydrator that will fold to just 1/3 its size for compact storage. The Sahara unfolds to offer over 1m2 (11ft2) of drying area, with stainless steel or sturdy polypropylene plastic shelving. Glass doors offer an attractive front that gives you a full view of drying progress.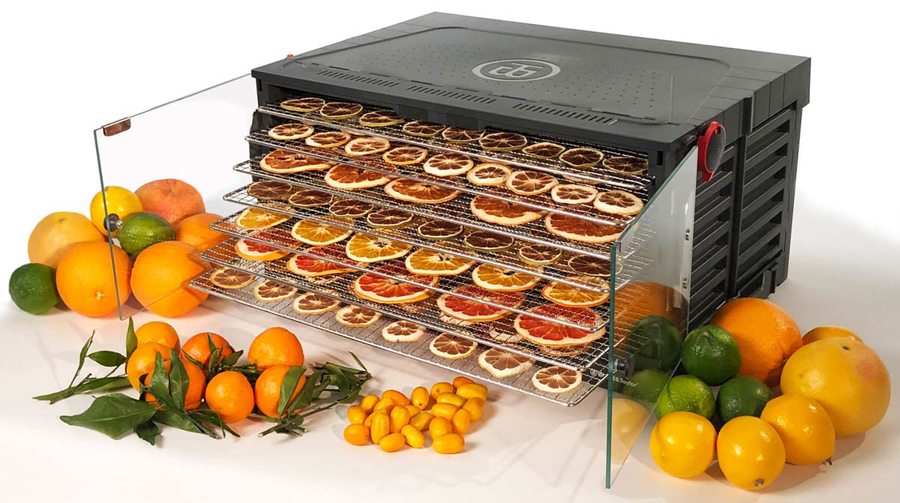 The Sahara dehydrator comes with 7 large drying shelves, each 50cm x 29,5cm (21" x 13") for a total of 1m2 (15.89ft2) of drying area.
Certain foods benefit from dehydration at two different temperatures. Foods with high water content (such as apples) will be much cooler than the surrounding air until they lose much of their moisture. This is because evaporation cools the food even as it is heated by the warm air. This effect can be as much as 36-45ºF / 20-25ºC. Dehydration can be optimized by increasing the set temperature for an initial period and then lowering it for the final drying. This speeds the drying process without overheating the food. The Sahara Dehydrator automates this process with dual time-temperature setting.
It has a strong fan for serious airflow, and a 750W dual heaters (2 x 375W). Temperature is adjustable between 30°C and 74°C (86°F and 165°F), and it also operates fan only - no heat.
Dehydrator measures W56 x D37 x H27,5cm (22"W x 14.75"D x 11"H) in use, and it folds to a compact size of 56 x 37 x 9,2cm (22" x 12.5" x 3.5"). Shelves are stored in an included case when the dehydrator is folded. Food contact parts of the Brod & Taylor Sahara dehydrator are BPA-free, and dishwasher safe. A tray at the bottom of the dehydrator can be removed to easily clean up anything that dripped or fell during the drying process.

With quiet, high efficiency airflow that combines recirculated air with filtered fresh air, the Sahara provides completely steady and even temperatures. Sahara's dual heaters run at full power when needed, but automatically switch to low power mode for increased efficiency and better temperature control.​
ACCESSORIES
Silicone drying mats can be used on stainless steel or plastic shelving in the Brod & Taylor Sahara food dehdyrator. Drying mats are useful for making fruit leathers. These 10" x 16" mats are sized smaller than the dehydrator's trays to maintain circulation between trays for even drying. Mats are sold separately.

ORDER BY CLIKING HERE (we ship only to EU countries!):

Products VerVita