Greek Yogurt & Cheese Maker
Greek Yogurt & Cheese Maker
KUVINGS GREEK YOGURT & CHEESE MAKER
Make your own Greek yogurt, cheese and more!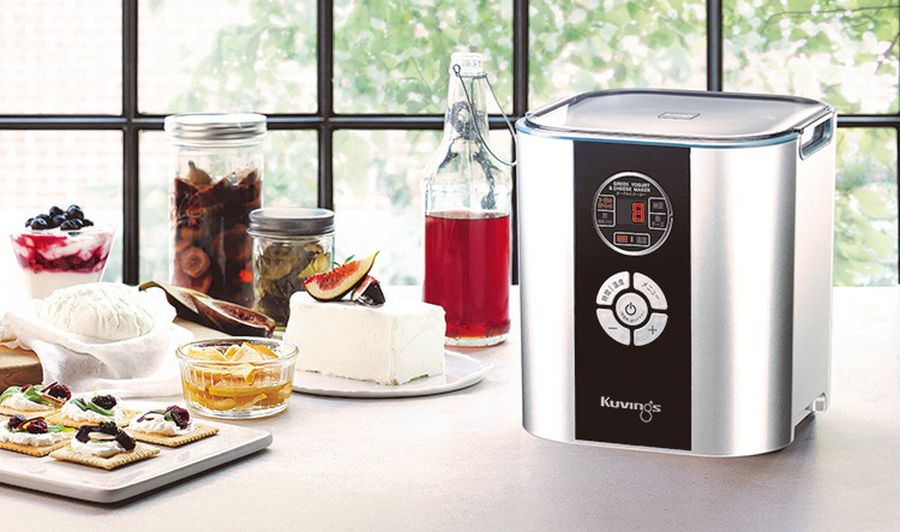 In today's hurried time, we occasionally forget about what we eat. Often in a hurry we do not solve the composition of food and how many chemicals it contains. Paradoxically, thanks to the hurried times and modern technology, we can stop for a moment and return to a real meal, the composition of which we will know safely. Fermentor KUVINGS is a simple device that will make you great homemade cheeses, yogurt, fermented vegetables or other goodies full of vitamins and health–promoting bacteria. Fermented foods are sometimes called small and cheap miracles and there is no wonder. Fermentation positively changes the chemical nature of the food. It improves its digestibility, increases the nutrient content and the auxiliary bacteria involved in this magical food transformation is a key component of our immune system. Fermented foods are also better digestible and fermentation removes toxins.
Fermentor Kuvings can become such a small home pharmacy that you will reappear the "miracle" of fermentation. Our grandmothers fermented, fermented vegetables could not be missed in any household. Fermentation is therefore a bit of a return to roots and a good home-grown food. In addition, you can safely season seasonal crops. Thanks to the built-in electronics that monitors the right time and temperature, everything is extremely easy and unattended.
With the Kuvings fermentor you can make delicious homemade yogurts or cheeses. For their production, you will get a blend of fresh homemade cheeses that will continue to be available in the store for re-purchase. Homemade syrups, fruit wines and home-made vinegar will also be amazing and healthy. We have prepared some recipes for you.
Fermentor Kuvings can also be a great gift for your closest friends or friends who have a healthy lifestyle, and the fermented foods they would like to make at home.
All used materials are approved for use with food, plastics are BPA Free, control is very intuitive and cleaning extremely easy.
Try a Kuvings cheesemaker, yoghurt and fermenter in your kitchen to become a new indispensable member of your family and a preventative home doctor who, thanks to healthy foods full of natural cultures, live enzymes and concentrated nutrients, will continually take care of the health of your entire family.
Fermentation or fermentation is a process of conversion of organic substances (most commonly carbohydrates), in which other substances are formed with the participation of microorganisms and their enzymes. Fermentation is of vital importance for the food industry, be it alcoholic, acetic or dairy fermentation, dough fermentation, beer, wine, yogurt or cheese. In addition, fermentation preserves food (sauerkraut, cucumbers, etc.).
Home-made fermented fresh food is delicious and exceptionally healthy! Why not have them every day? With the Kuvings cheese, yoghurt and Kuvings fertilizer maker, simply add one button!
The package includes: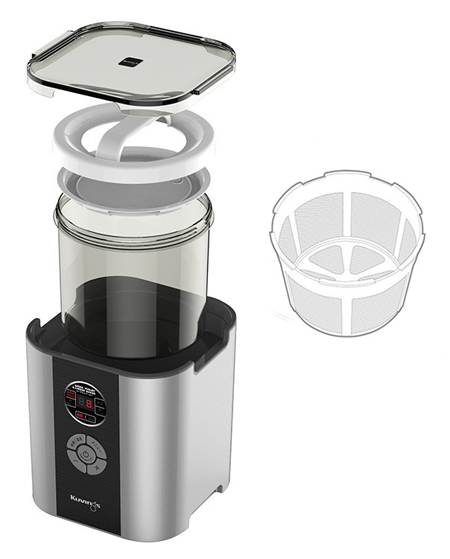 Fermentor Kuvings

2x pots

1 lid

1x handle

1x fine sieve

1x lid of the device

instructions

a cookbook
Greek yoghurt
Mix Milk with Milk Bacteria and press Menu to select Greek yoghurt. Add your favorite icing to freshly made yoghurt and enjoy a light snack. You can also yogurt for pastry, such as baguette or dough, and enjoy your life full of sips. Greek yogurt has a stronger flavor than ordinary yoghurt, and it is more like cream cheese than texture. It ranks among the five healthiest foods. Add fruit, such as blueberries or banana, to gorgeous Greek yoghurt, or mix it with a variety of frosting. Adding it to the dough will make the resulting food even richer. Greek yogurt has little calories but has a high nutritional value. Greek yoghurt is a miracle food with a low fat content and a high protein content that exceeds twice the protein and calcium value of normal yoghurt. Greek yogurt is among the 14 healthiest superfoods for its high content of health benefits. Its great taste attracted the attention of many people around the world.
Fresh cheese
Add the Kuvings cheeses (supplied with the device) and press the Menu button to select "Breaded Cheese." This cheese will taste great with a sandwich or salad. By adding herbs or spices, you get countless wonderful flavors. Or add the cream and prepare your home "Cottage". Cheese, also called the best food that was given to us by God, is full of nutritional values ​​that people need. As an example, calcium, minerals, vitamins and proteins can be mentioned. You can enjoy a unique cheese dish that will delight your taste by adding your favorite fruit or vegetables (eg strawberries or carrots). Cheese contains seven times more protein and five times more calcium than milk. Cheese is a good meal for children. Make it easy by adding rennet. The result is a slightly salty option. If you want to sweeten the cheese, just add honey. For delicious flavor, add nuts. Take advantage of plenty of cheese recipes for a balanced diet.
Vinegar
Add sugar and vinegar to the prepared fruit or vegetables and press the Menu button to select "Vinegar". You get vinegar full of flavor and nutrients. Vinegar can be used to prepare hot and cold drinks, as well as being popular in gourmet cuisine. Vinegar, also referred to as the "miracle of nature", is widely used as a basic raw material for flavoring, preserving food or as a medicine. Vinegar which naturally enriches the taste of cooked food is commonly used to prepare meals. It can also be mixed with water (normal or carbonated) to create a unique recipe.
Pickled vegetables
Use vinegar, sugar and spice mixture to produce pickled / fermented / pickled vegetables and press Menu button to select "Pickled vegetables". Then you can enjoy the unique and fresh taste of fresh and super healthy fermented foods. Pickled vegetables that allow you to enjoy the freshness of seasonal food all year round have been in use for centuries. We are also called vegetables in the lure or palm. Prepare a unique pickled vegetable that will make your dining experience a gourmet experience. From cucumbers to beet, other assorted fruits and spices or leaves.
Syrup
The enzymes contained in this syrup aid the absorption of nutrients from fruits and vegetables, such as vitamins and minerals. The enzyme, which allows us to enjoy the great taste and aroma of ingredients as such, helps digestion and the proper functioning of metabolism. It also acts as a prevention against aging.
Fruit wine
The unique fruit wine you can see and taste has a unique feature - you can make fruit wine from fresh fruit and alcohol you choose yourself. Fruit can be enjoyed during the summer and ginseng or grapevine during the winter. Using seasonal ingredients, you create a healthy and delicious fruit wine that you can enjoy throughout the year.

Products VerVita